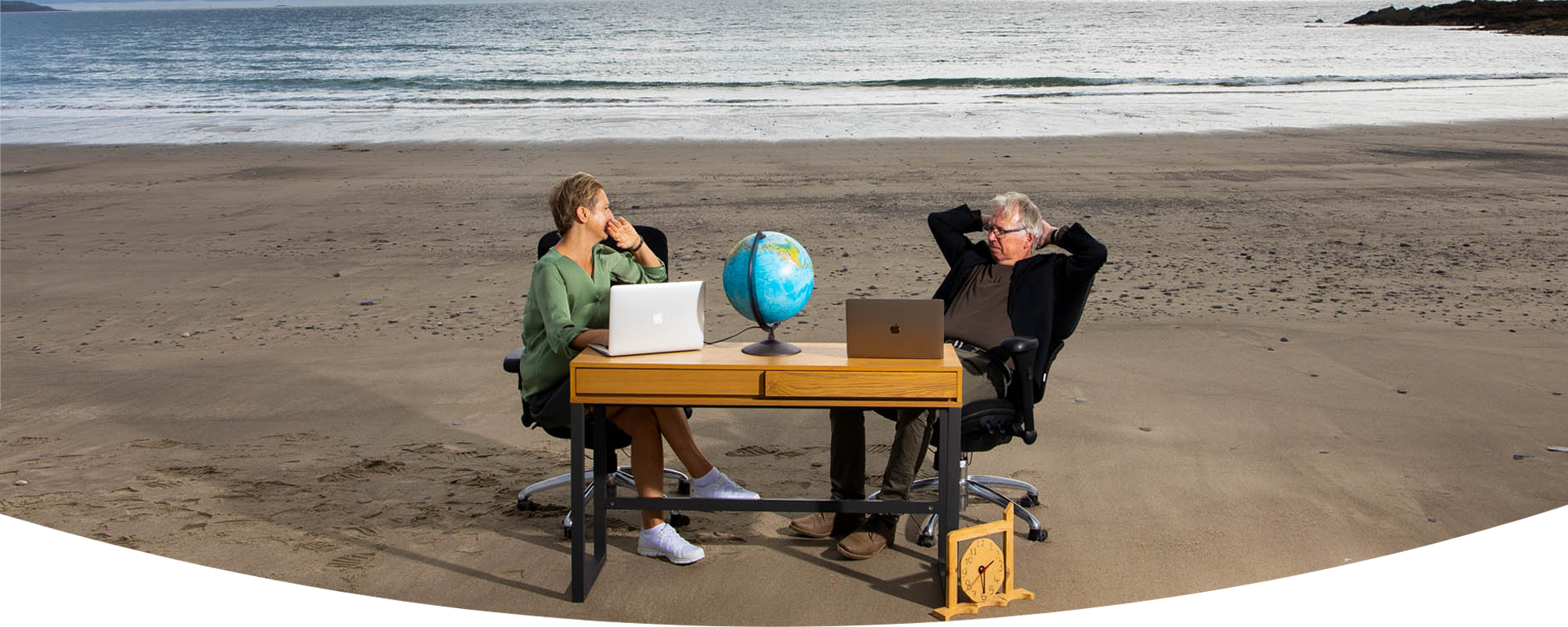 Driven by the belief that everyone is good, Future Planet's mission is to equip people and companies to do right by the planet and each other as they continue on their journey of commercial growth.
We believe in a world where people and businesses can grow while having a positive impact. We believe that a world where everyone is treated equally is more rewarding for all. Future Planet and our Galaxy Partners bring that perspective to help companies grow sustainably.
The team's experience combines Sustainability, Supply Chain, Procurement, Artificial Intelligence, Enterprise Cloud Software, and Change Management and we use that experience to accelerate sustainable business transformation.
The Future Planet vision is driven by:
Donal Daly – Chairman and CEO
Donal is a technology entrepreneur who founded five successful software companies. Since he founded his first Artificial Intelligence software company in 1986, Donal has been improving human performance through the effective application of smart software. Donal's companies have served more than a million users over thirty years. He has been working on the Future Planet vision since his last company was sold in 2019. Donal is an author of multiple books including three on Artificial Intelligence and transformation that were Amazon bestsellers. Donal also founded the Altify Foundation in 2005, a charitable foundation focused largely on human rights and social injustice. He is a graduate of Engineering from University College Cork, Ireland and UN Sustainable Development Goals from KU Leuven, Belgium.
Ingrid De Doncker – Head of Research & Innovation
Originally from Belgium, Ingrid has been in Ireland since 1996. She is one of Europe's leading supply chain, procurement and sustainability thinkers and expert practitioner. In her previous company, Ingrid built a leading strategic practice helping customers "Buy Better"; achieve cost savings while building better relationships with suppliers and the planet. A sought-after speaker, and lecturer in three of Ireland's universities, Ingrid is passionate about supporting business and supply chain teams to drive sustainable change to positively impact the profit, social and environmental bottom line of the business. Ingrid is also the founder of the Procurement Transformation Institute (PTI), a non-profit organisation that elevates the Procurement Profession. She is a graduate in Political Science from KU Leuven, Belgium where she also studied UN Sustainable Development Goals.
Future Planet's Commitment to the UN Sustainable Development Goals
The Sustainable Development Goals (SDGs) provide a critical collaboration framework to assess and address the core material topics for any business. As they aim to transform our world, they are a call to action to end poverty and inequality, protect the planet, and ensure that all people enjoy health, justice, and prosperity.
While the breadth of our solution combined with our clients' needs allows us to make a meaningful contribution to all SDGs, Future Planet has identified 3 specific SDGs where we make a direct impact; SDG 4: Quality Education, SDG 12 Responsible Consumption and SDG17 Partnerships for the goals.

SDG 4: Quality Education
At Future Planet our focus is specifically on contributing to target 4.7, education for sustainable development and global citizenship. Future Planet provides an awarding winning sustainability lifecycle management platform. The SDGs are embedded in our software as a framework for sustainability and every time an enterprise uses our software, the SDGs have a chance to shape their decision-making and behaviour. Through the Future Planet platform, we give businesses the ability to lead sustainable change initiatives, by providing their workforce with the knowledge, guidance, and tools to incorporate sustainable practices while monitoring their progress against the SDGs.
SDG 12: Responsible Consumption
Future Planet is directly committed to achieving SDG 12 through our "Live Better (in your business), Buy Better (from your suppliers), Design Better (for your customers)" methodology, which focuses on increasing efficiency and effectiveness across environmental, societal and governance topics. Supply chains are responsible for an average of 80% of companies' emissions, making SDG 12 a crucial goal for us to impact. Our SaaS platform allows organizations in both the private and public sector to implement sustainable practices throughout their business operations, supply chains, and customers. By promoting sustainable procurement practices that aim for net-zero targets and actions, supply chain transparency, and the elimination of unacceptable modern slavery and human rights challenges, we provide businesses with recommended actions and collaboration opportunities throughout their entire value chain
SDG 17 – Partnerships for the Goals
At Future Planet, we believe that collaboration is essential for making a positive impact. Our employees and founders generously share their expertise to accelerate our impact Our team members and founders are passionate about sharing their knowledge and skills to drive progress. Our current partnerships and recent collaborations include being the sustainability partner for the Cork International Film Festival, collaborating with Sustainable Finance Ireland on a strategy document for sustainability in FinTech, and partnering with University College Cork on research on climate-related behaviour change.
In addition to our focus on the above three specific SDGs, Future Planet has also developed other online resources to educate and increase awareness for all SDGs. These include Ireland's first personal carbon footprint application and a Twitter handle that shares information about energy conservation and awareness.
Sign up to our newsletter
Get the latest news and updates delivered directly to your inbox!